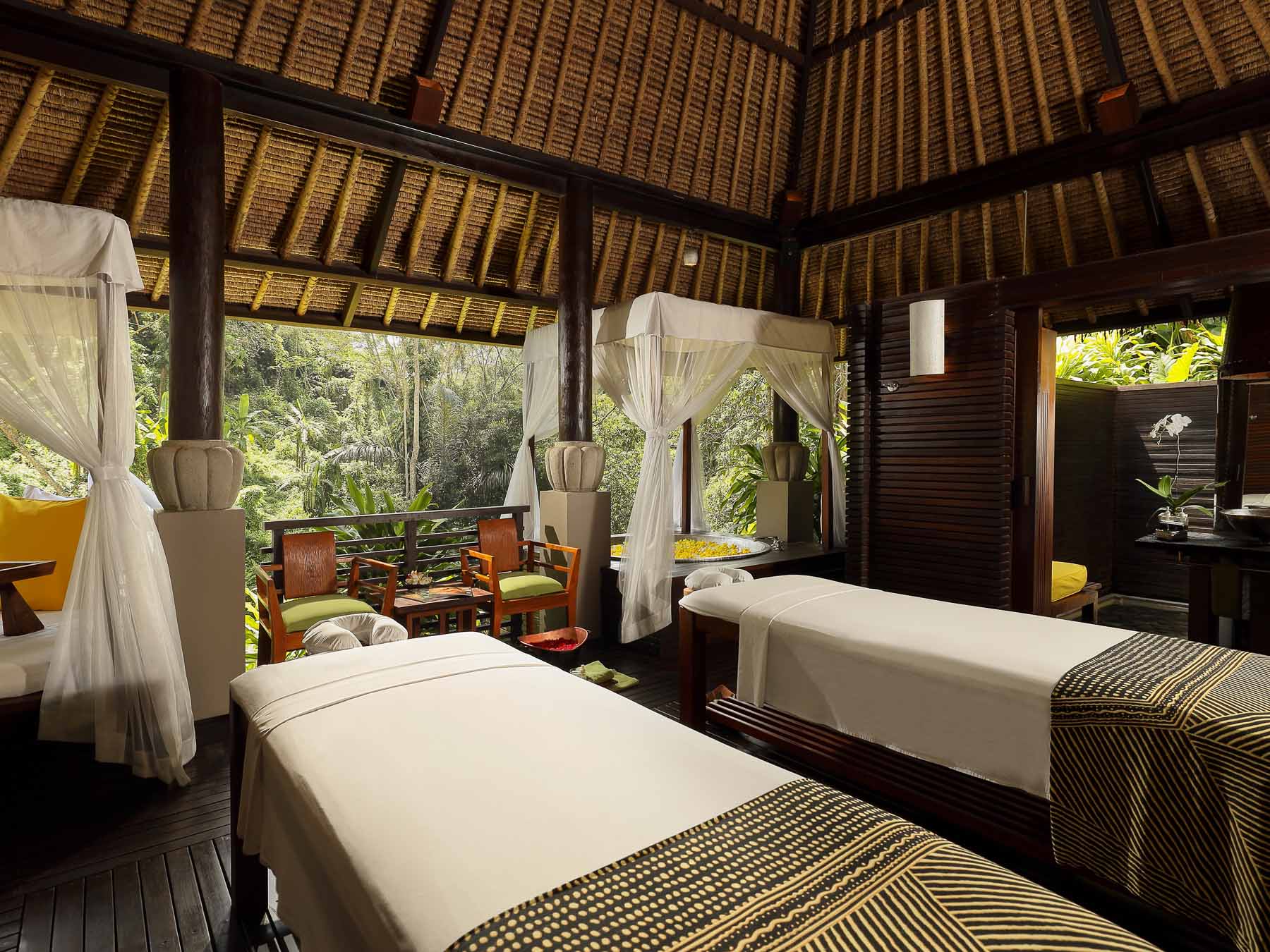 Maya Ubud Resort & Spa sits in splendid seclusion, bordered by the dramatic Petanu River Valley to the east and the vibrant rice fields of Peliatan on the west. The ten hectare tract of land is itself a tranquil haven of tropical gardens and architect-designed thatched buildings, private pool villas and luxury guestrooms.
Maya Ubud is a luxury resort designed to capture the spirit of a traditional Balinese village. 
It is a leisurely twenty-five minute stroll from Maya Ubud to the colorful and bustling village of Ubud, with its fascinating market, art museums and galleries, shopping boutiques and restaurants. A complimentary shuttle service is available between the resort and the central market daily from 9.00 am – 9.00 pm.
Designed by award-winning architect, Budiman Hendropurnomo of Denton Corker Marshall, Maya Ubud Resort & Spa is inspired by the ancient Balinese wisdom of orientation. A ceremonial walkway along the central ridge of the property connects all public spaces from the porte-cochere, through the lobby and down to the riverside spa. All villas are then positioned on either side to reflect the ambience of a harmonious village that follows the contours of the land.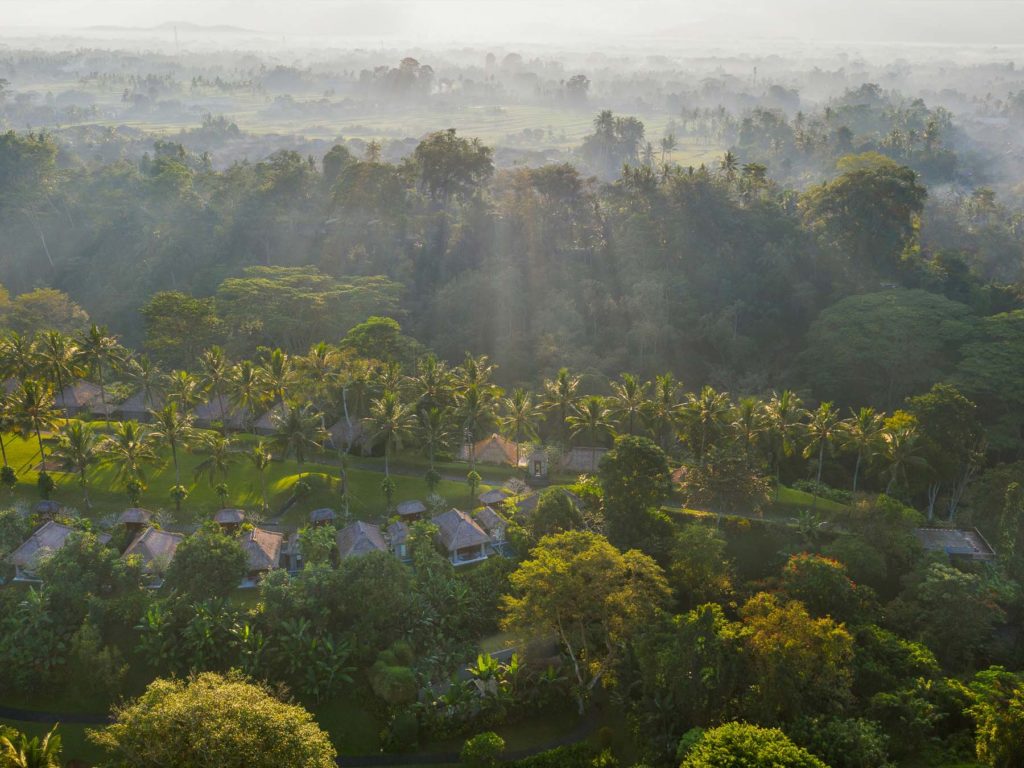 Conceptually, the resort is a celebration of Bali's cultural heritage. However, in terms of décor, it ventures beyond the island to include an eclectic collection of antiques. Reclaimed timbers have been used together with more modern natural materials to create unique interiors rich in character. Old cartwheels have been fashioned into mirror frames, tabletops were once teakrailway sleepers and traditional fish traps and baskets are now handcrafted lampshades.
Restaurants & Bar
Maya Ubud offers an array of dining and cuisine alternatives. Choose the style to suit the mood – from bountiful buffet breakfasts to candlelight dinners that create special and memorable moments. Experience sumptuous sunrise buffets enhanced with river valley views at Maya Sari Restaurant, Asian-style restaurant that features an authentic teppanyaki counter at Asiatique, savor healthy spa-inspired dishes, pasta and great pizzas and enjoy the panoramic views of the valley to accompany refreshing favorite cocktails and ice cold brews.
Spa at Maya
Balancing the human senses through holistic harmony is elevated to the highest level at the Spa at Maya. From the simplest treatment to an extended sensory journey, skilled and caring therapists have but one goal – to create memorable experiences for guests. These sensual enjoyments cover the sensations of relaxation, renewal, revitalization and refreshment beside the swirling waters of Petanu River, amidst the lushness of the rainforest for a feeling of total euphoria.
In consideration of other guests and to preserve the peace and tranquility of the Spa at Maya, River Café, the Spa Pool and its surrounding environs.
Children are not permitted into this area of the resort.
Fitness Center
The fully air-conditioned Fitness Center features the latest state-of-the-art exercise equipment offering our resort guests the opportunity to enjoy their regular workout whilst on vacation.  The Fitness Center is open daily from 6.00 am to 8.00 pm and offers the services of a Personal Trainer.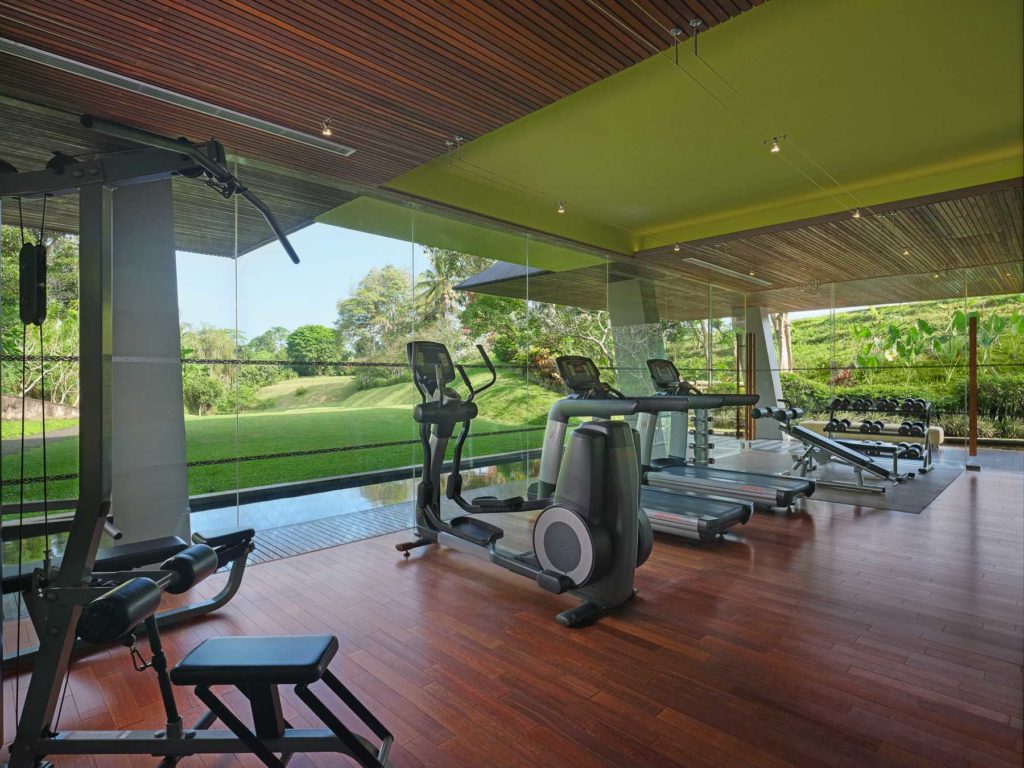 Pools
Two pools set amidst the forest green, overhanging the river valley and at the riverside and private swimming pools for each deluxe villa, duplex villa and presidential villa. Suspended between sky above and valley below, adrift in beauty and tranquility, a chance to retreat and enjoy the breathtaking vistas.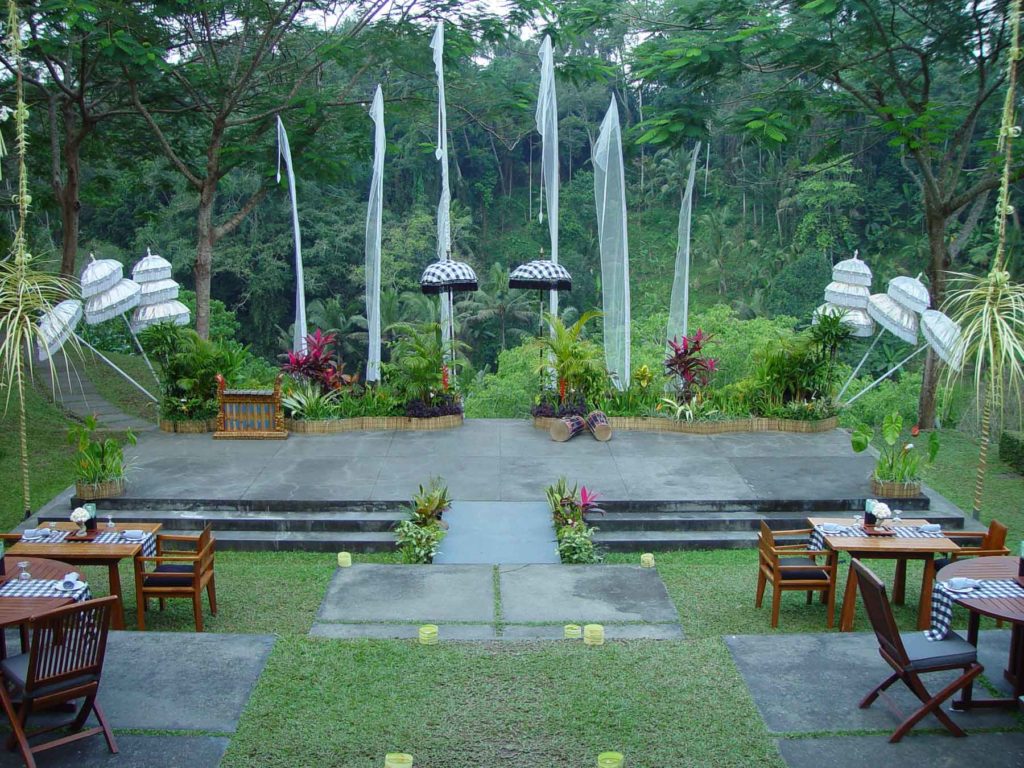 EXAMPLE WEDDINGS
Inclusions:
• Commitment ceremony for 50 guests
• Exclusive usage private venue at Starlight
Deck or Full Moon Stage
• Stylish decorations with tropical flower
arrangement, Balinese flower pyramid, ceremonial table and buggy transportation for the bride as needed
• Bridal bouquet for bride and boutonniere for groom
• Wedding Celebrant to lead the ceremony • Commemorative ceremonial certificate
• Sparkling wine toast for bride and groom • Signature mocktail & fresh cold towel
upon arrival
•Traditional Balinese rindik bamboo
melodies with 2 musicians
•Standard sound system including 2
microphones
• One-night stay in a Deluxe Pool Villa
microphones
including breakfast for two
MAYA UBUD
Jalan Gunung Sari Peliatan,
P. O. Box 1001
Ubud, Bali,
Indonesia 80571
T. +62 361 977 888
F. +62 361 977 555
E. info@mayaubud.com
Read More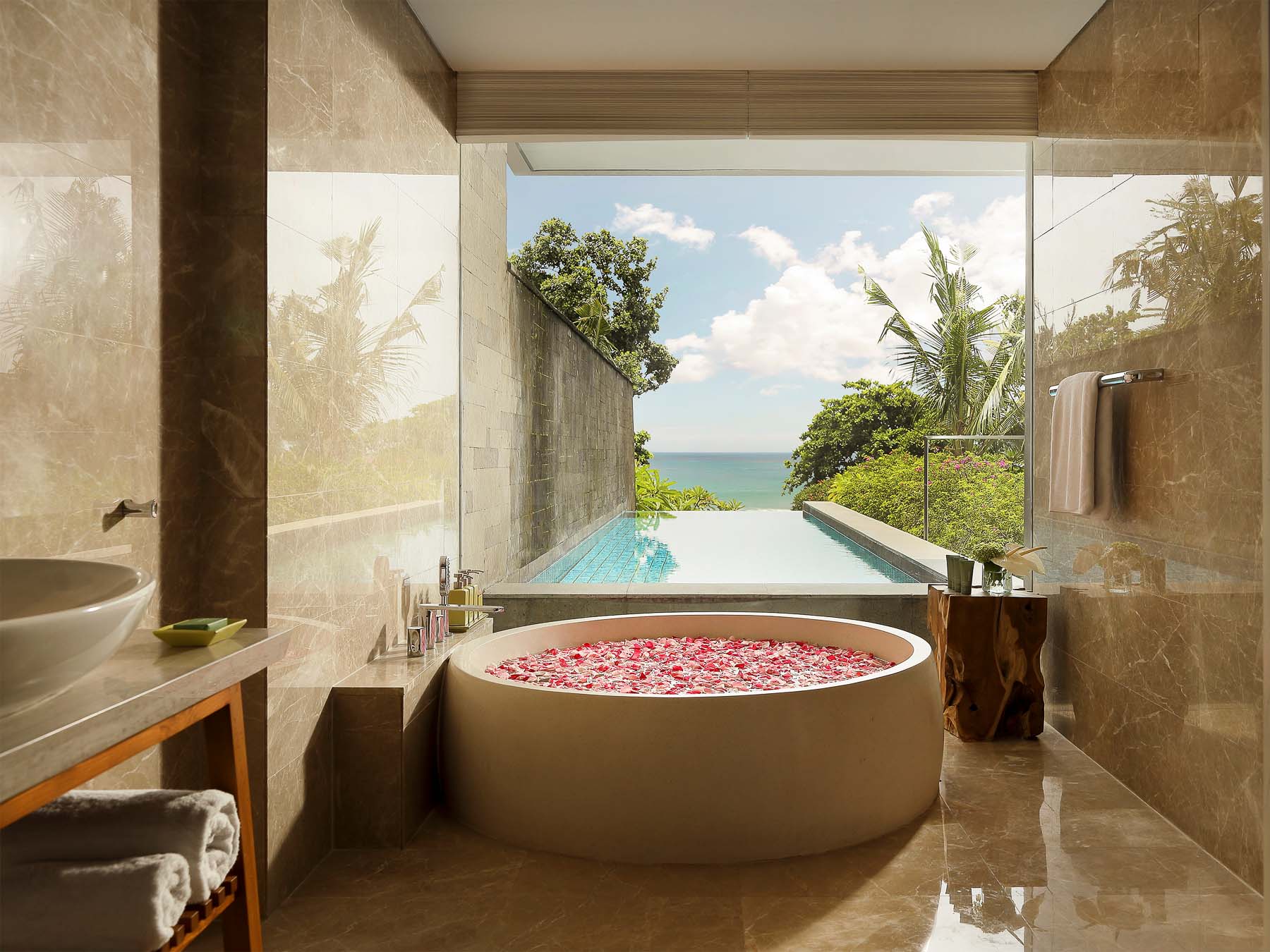 A cosmopolitan seaside destination that has attracted discerning travellers since the 1930s, Sanur embodies Bali's relaxed chic lifestyle. Strategically set between the dynamic sidewalk scene and an extensive boardwalk that runs along the length of a tranquil white-sand coastline, Maya Sanur's location invites you to experience the freedom and convenience of walking to an eclectic collection of international boutiques, restaurants, cafes, and bars.
Conveniently located approximately 25 minutes from Ngurah Rai International Airport, as well as within 45 minutes from many of Bali's famous holiday destinations, including Ubud, Seminyak, Kuta and Nusa Dua.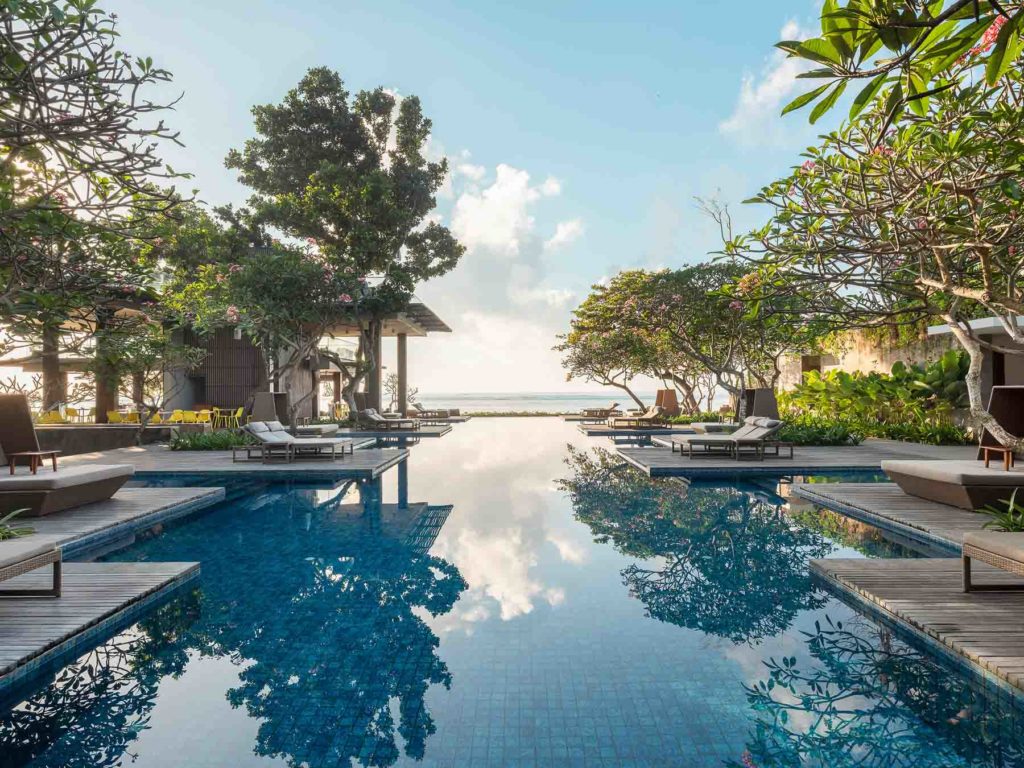 Just footsteps from a stretch of white sand beach blessed with vibrant sunrise views, Maya Sanur is the ultimate lifestyle retreat where tropical sophistication meets innovative Balinese design.
Distinguished by an eco-green rooftop, this Bali resort is attuned to the surrounding environment and is part of a tight-knit local community. Surrounded by plentiful shopping and dining options, Maya Sanur caters to the needs of couples as well as family travellers with high-end services and facilities.
Discover a spa in Bali that offers an exquisite service and unparalleled relaxation. In a peaceful and quiet surrounding, Spa at Maya brings you an experience that transcends time, full of peaceful moments and serenity. We have a wide variety of spa treatments and one of them is "Citrus bath" where you will be spoilt soaking in energizing pulpy fruits. There are various types of natural fruit baths available which have their own amazing benefits. We introduce our new well-being experience by using highly aromatic citrus family. Citrus fruits are rich in natural source of vitamin C, while the scent and taste uplift your mood and are good for skin.
This indulgent package surely will be the most favorite spa treatment. It starts with an ultimate relaxing "Soothing Maya Massage" followed by an exotic lime and ginger scrub to exfoliate, revitalize and refresh the body. Nothing is more soothing than a warm bath especially after a long journey. Feel the sensation of the luxury "Citrus Bath" ritual. A natural fruit bath is a great way to relax, stimulate circulation and relieve tension, while the calming Citrus will soothe and soften your skin to give a natural glow.
Conceptualized by award-winning architect, Budiman Hendropurnomo of Denton Corker Marshall, Maya Sanur Resort & Spa celebrates the timeless heritage and classic elements of Bali.The island's traditional concept of living harmoniously with nature is honoured with an innovative design that elevates Balinese aesthetics to exciting new heights.
Structurally, Maya Sanur Resort & Spa is sheltered by a stunning rooftop garden with a collection of intimate spaces and inspiring lagoon views beneath. A dramatic porte-cochere at the front entrance creates a real sense of arrival and five modern drum towers overhead represent Bali's oldest means of village communication. Innovative charcoal ceilings throughout the reception atrium are not only visually stimulating, but naturally absorb sound and cleanse the air.
Start each morning with a complimentary session of yoga or take pleasure in a leisurely stroll along Sanur's popular beach boardwalk. Plunge into the refreshing waters of our158-metre lagoon pool where stylish daybeds beckon you to unwind. Two other swimming pools, including one that is designed especially for children, promise afternoons of well-deserved relaxation or dynamic family fun. Visit Spa at Maya for a replenishing facial, or ask our wellness professionals to curate a sensory journey just for you.
In the fading hours of daylight, position yourself on the deck at Tree Bar to sip a glass of chilled wine.
Reserve a table for dinner in a floating gazebo at Reef as you watch the graceful movements of a traditional Balinese dance. Alternatively, savour authentic Japanese cuisine at Kuu or allow us to arrange a romantic dinner under the stars in the private ambience of our rooftop garden.
MAYA SANUR
Jalan Danau Tamblingan
P. O. Box 3253 Sanur
Bali 80228 – Indonesia
T. +62 361 849 7800
F. +62 361 849 7808
E. info@mayasanur.com
Read More