Sanctuary Resort, terraced on Camelback Mountain, is conveniently located 8 miles north of Phoenix Sky Harbor International Airport. This luxurious resort offers guests a serene hideaway overlooking Paradise Valley, and is just five-minutes away from downtown Scottsdale attractions. Experience relaxation and renewal among the stylish tranquility of Scottsdale's finest luxury accommodations–Sanctuary on Camelback Mountain.
Retreat to ultimate comfort within a spacious casitas, suites or Sanctuary's exclusive villas, each offering the most spectacular views of the famed Paradise Valley. Relax your mind and reconnect at one of the top destination spas in the Continental U.S. and most award-winning luxury resorts in Scottsdale.

Recreation
Delight in an assortment of activities featured at or near Sanctuary on Camelback Mountain.
Magnificent views of Paradise Valley enhanced by our recreational amenities make for the perfect personal escape on-site while nearby attractions and day trips offer the excitement and most scenic sights of Scottsdale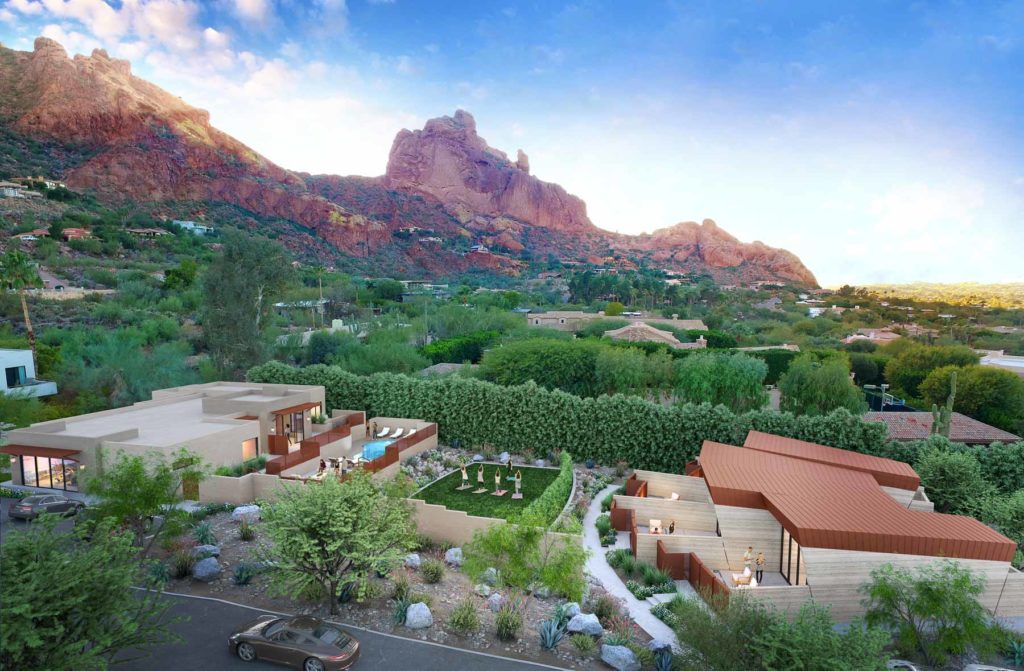 Indulge in a little relaxation or a little adventure among the array of on-site activities offered at Sanctuary Resort.
• Infinity-edge pool with cabanas
• A separate 25-yard outdoor lap pool
• Spa with fitness center and movement studio
• Five Deco-Turf championship tennis courts
• Hiking trails, bicycling and nature walks
Arizona Luxury Spa
The Sanctuary Resort Spa experience extends throughout twelve indoor and outdoor treatment rooms, and includes a tranquil Zen meditation garden and soothing reflection pond. A luxurious Watsu® pool, peaceful Sanctum suite, new women's quiet room, and an indulgent selection of services from facials to acupuncture distinguish Sanctuary Resort Spa from other hotel spas in Scottsdale and beyond.
The Villas at Sanctuary
Slip away amidst the serenity of Paradise Valley within the most lavish vacation villas in Scottsdale. Sanctuary Resort presents eight private mountainside villas, each offering spacious accommodations and personalized amenities that provide an unforgettable retreat for couples, families and businesses. From game rooms, private pools, tennis courts and secluded patios boasting dazzling vista views to a plethora of unique and exclusive amenities, guests are invited to relax and reconnect within some of Camelback Mountain's most extravagant estates.
Things To Do in Scottsdale
Scottsdale is known for its glorious sunshine, exquisite sunsets, breathaking desert vistas and an abundance of unique activities and offerings. Whether you are planning a trip for two, a family vacation, or a solo travel experience, there is something for everyone. Unwind during a round of golf at premier courses nearby, discover the beauty of Arizona during a guided hike, indulge in the arts found at local museums and galleries, or treat yourself to a little downtown-area shopping. Whether you are looking for culture and cuisine or recreation and relaxation, this city provides the ultimate escape.
The museum honors the significance of the American West through art, interactive exhibits, and special events.
Over 4000 species of plant life native to arid lands around the world, including our own Sonoran Desert, are present here.
Taliesin West is a desert home at it's best, and is known as much for its unique design as for its notable resident: American architect Frank Lloyd Wright. A National Historic Landmark, Taliesin West was Wright's winter home, and, as such, was built and maintained almost exclusively by Wright and his apprentices.
Those looking to stray a little further from Sanctuary will revel in Sedona's signature red rock formations. Featuring one of the most distinctive desert landscapes in Arizona, Sedona is an ideal destination for a day trip
Contact
Sanctuary Resort and Spa
5700 East McDonald Drive
Paradise Valley, AZ 85253
855.245.2051 or reserve online
Read More