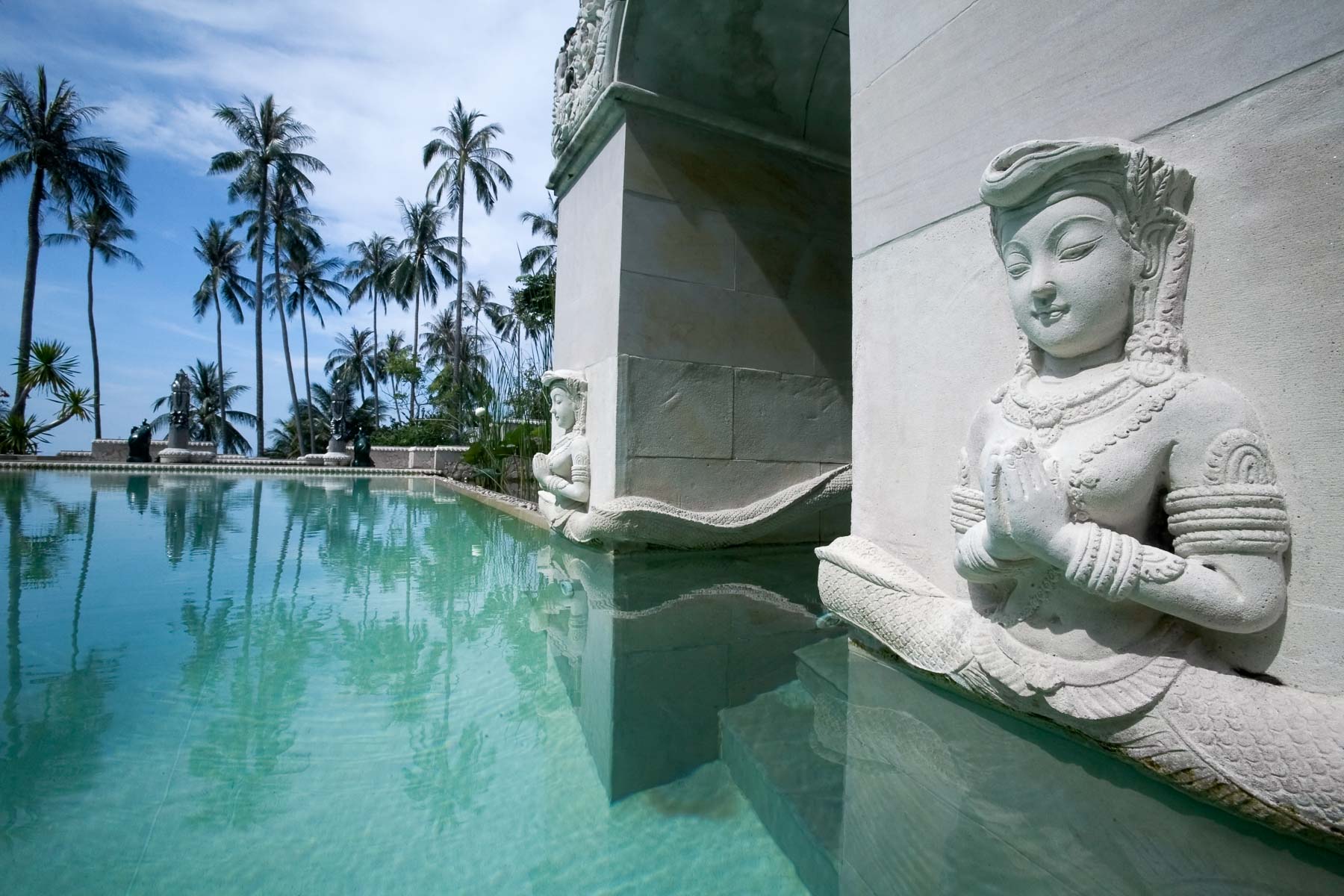 Kamalaya Wellness Sanctuary & Holistic Spa is a multi-award winning holistic healing resort located in the pristine south of the Thai island of Koh Samui on tranquil Laem Set Beach. Integrated into a tropical hilly landscape, the 25 villas, 26 suites and 24 rooms of the five-star resort are spread out between lush greenery and blue pools. The name "Kamalaya" means "kingdom of the lotus" and stands for the unfolding of body, mind and soul. In line with its holistic philosophy, Kamalaya combines Asian and Western healing traditions to help those seeking relaxation find new energy and health. The offer ranges from detoxification to stress and burnout programmes to the improvement of sleep, fitness and emotional balance.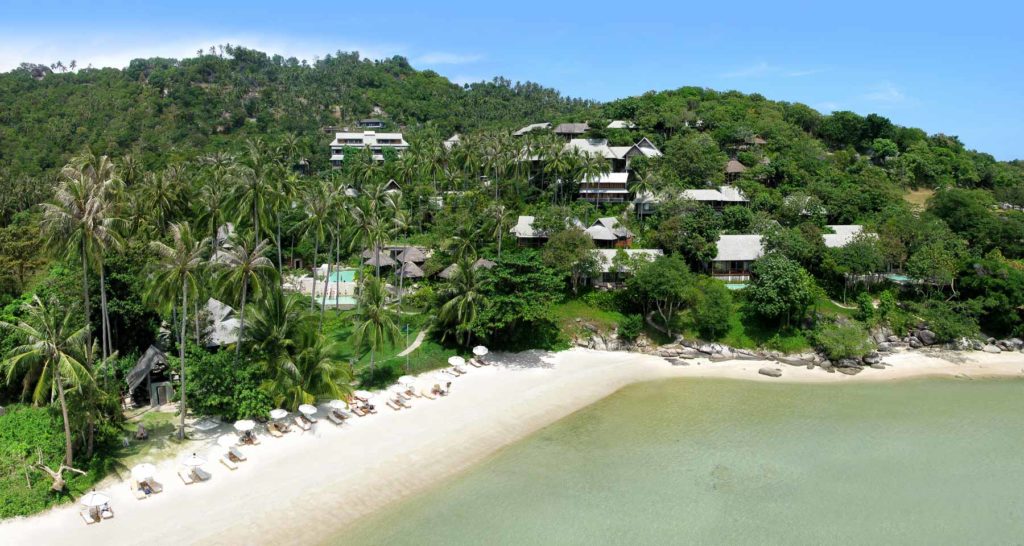 From monk to founder of a luxury wellness retreat
The Kamalaya healing resort reflects the life experiences of founding couple John and Karina Stewart and their desire to help others.
Canadian John spent 16 years under the tutelage of a yogi master in a North Indian ashram. There he met his now wife Karina, who had been practising Asian medicine for many years. Together they wanted to create a place where ancient Asian wisdom and wellness and healing methods could be applied in a modern way and be accessible to everyone. When John moved to Koh Samui in 2000 for health reasons, he accidentally discovered a centuries-old rock cave that once served as a retreat for Buddhist monks. Inspired by this place of power, the holistically oriented Kamalaya was created on this spot in 2005.
Healing and sustainable – programmes against stress and burnout
With a selection of more than 70 treatments and therapies, the holistically trained Kamalaya team can specifically address individual needs – from stress reduction to the treatment of pre-existing burnout symptoms. The results-oriented programmes include therapeutic massages from Thai, Chinese and Indian healing traditions as well as personal counselling sessions on nutrition, stress management as well as relaxation techniques.
Balm for the belly
The so-called "Enriched Gut Programme", loosely translated as "Balm for the Gut" at Kamalaya is based on the knowledge of how important a well-functioning gut is for the entire immune system and thus for physical, mental and emotional health. The programme rebalances bacteria and microflora in the digestive system and thus prevents inflammatory processes in the body. The latest findings from the fields of naturopathy, TCM, Ayurveda, nutrition and other holistic healing methods are incorporated. The healthy cuisine at Kamalaya has an additional supporting effect.
Physiotherapy the Asian way – Structural Revival
Kamalaya's holistic Structural Revival Programme is designed to realign the body, improve posture, relieve tension, rehabilitate injuries and restore maximum mobility, functionality and vitality.
Physiotherapists teach exercises that guests can continue at home. Using a combination of Western and Asian healing methods, Structural Revival analyses and treats the causes of physiological dysfunctions. The programme includes physiotherapy sessions as well as individual Pilates training to strengthen the body and stabilise the joints.
Fitness programmes for body, mind and soul
Kamalaya's "Comprehensive Optimal Fitness" programme is aimed specifically at sportspeople who want to make their training even more effective and at the same time strive for a healthy lifestyle. It is about consciously balancing an intensive workout with gentle strengthening and relaxation techniques and a balanced diet. Basic Optimal Fitness" is recommended for beginners.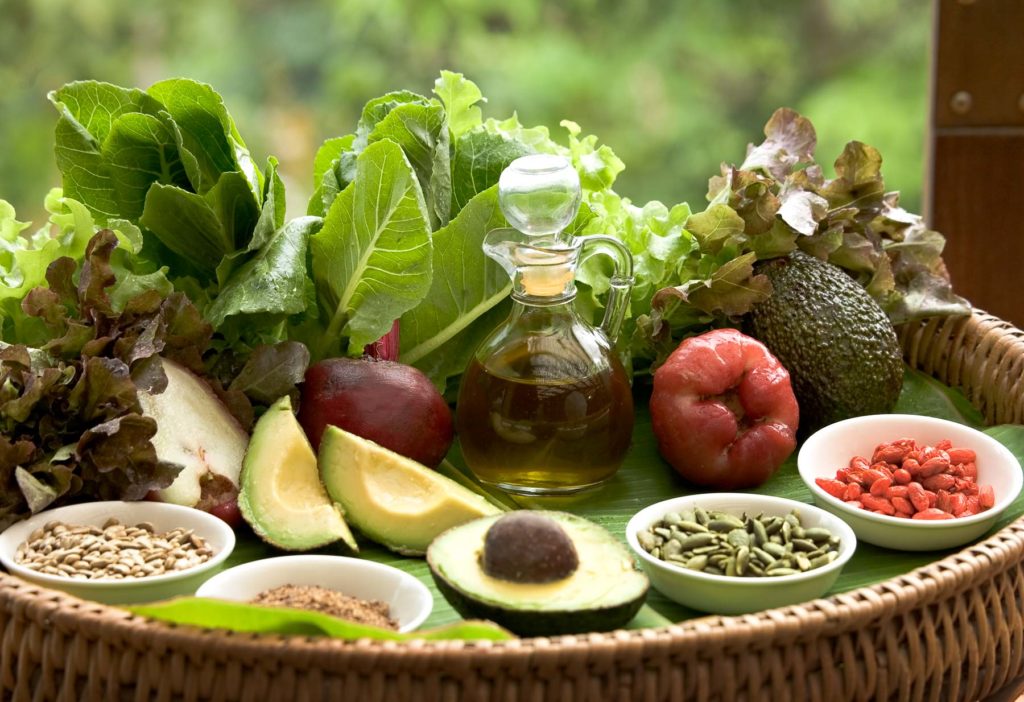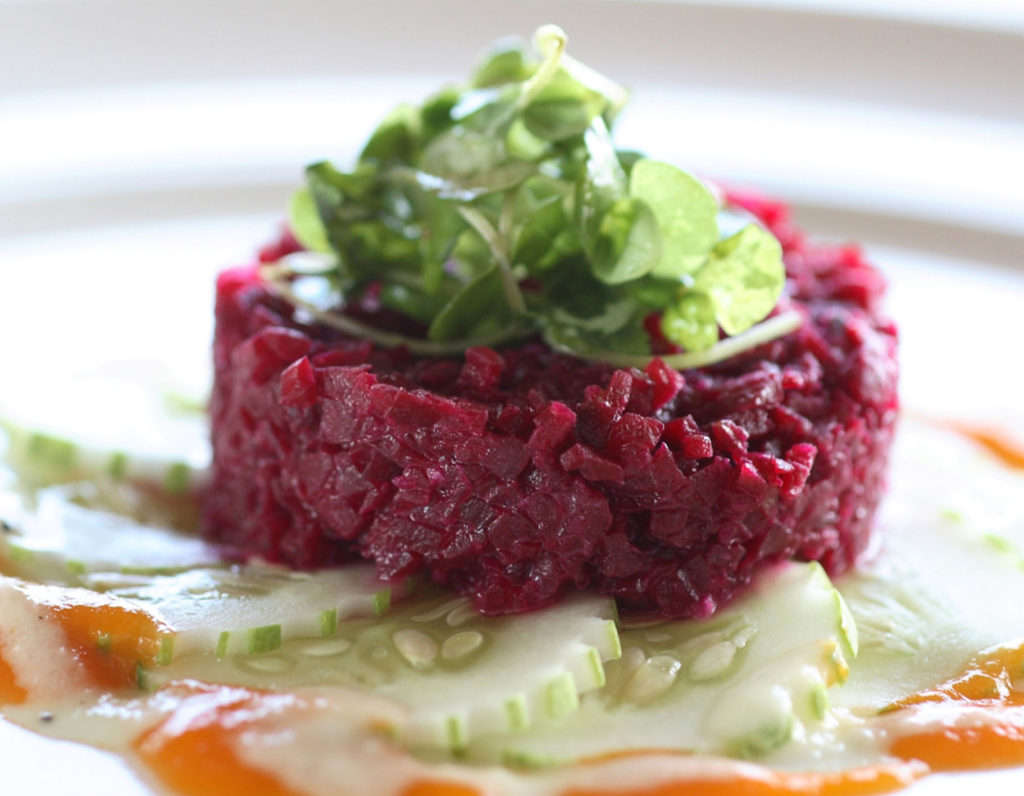 INFO
Holistic 5-star healing resort on Koh Samui, Thailand.
Situated on the tranquil Laem Set Beach in the south of the island
25 villas, 26 suites and 24 hillside rooms
Medically based wellness programmes:
Detox cures, yoga classes, stress and burnout,
improvement of fitness or weight as well as emotional balance
Combination of Asian and Western natural healing methods
Individual wellness consultation on arrival
Health-conscious and enjoyable cuisine
Rock grotto in the centre, once used by Buddhist monks for meditation
2 yoga pavilions, 3 infrared saunas, steam grotto, swimming pool for relaxation, Shakti Fitness Centre, spacious fitness area with 25-metre swimming pool at the highest point of the complex
Daily activities such as yoga, pilates, qi gong, tai chi and meditation
Multiple award-winning:
e.g. World Spa & Wellness Awards 2017 & 2018: Worldwide Health & Wellness Destination of the Year, AsiaSpa Awards 2017: Spa of the Year – Southeast Asia & the Pacific, Luxury Travel Magazine's GOld List 2017: Best Overseas Health & Wellness Property, Condé Nast Traveller Spa Awards 2016: Best Destination Spa
Kamalaya Koh Samui
---
Read More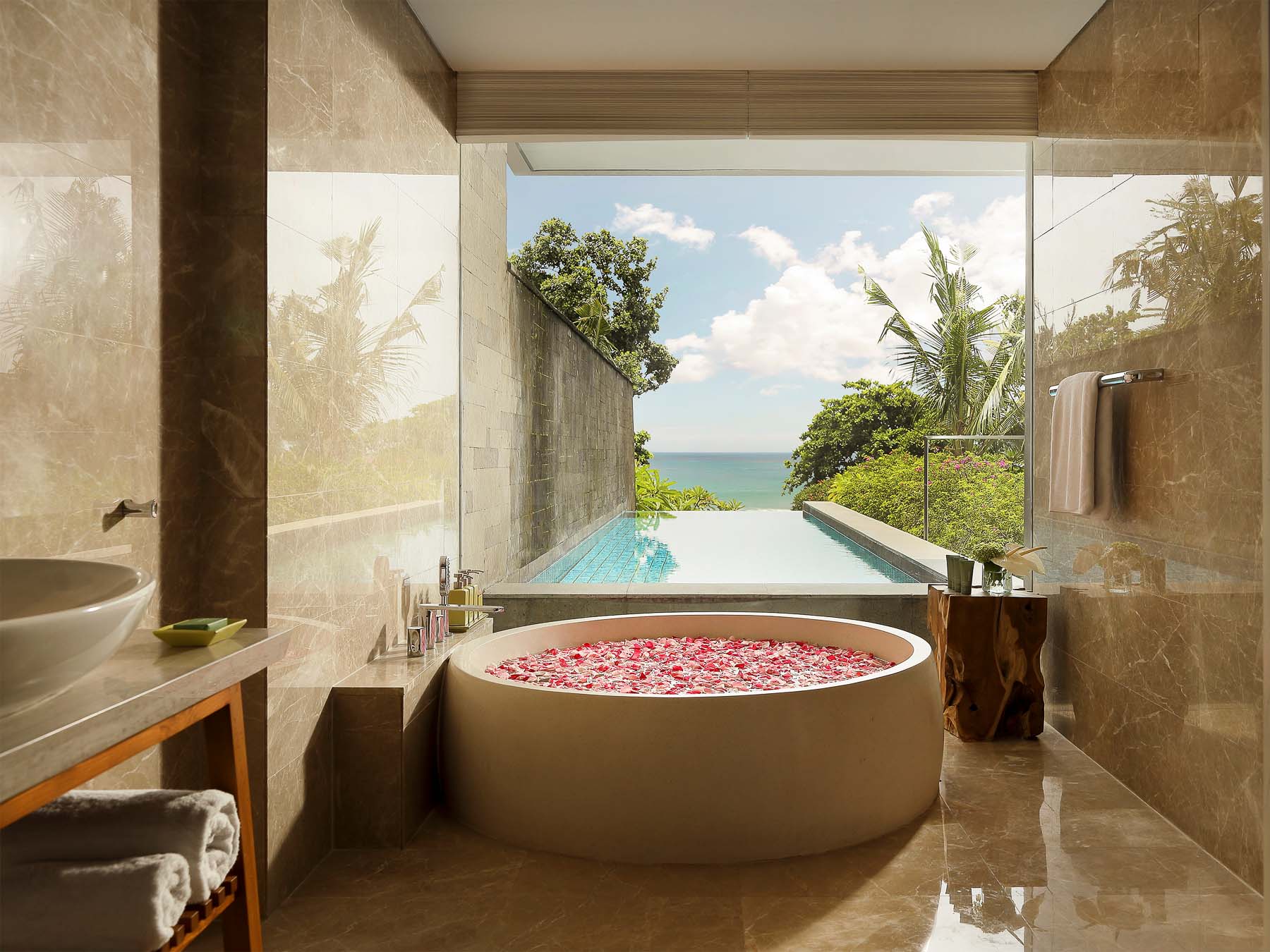 A cosmopolitan seaside destination that has attracted discerning travellers since the 1930s, Sanur embodies Bali's relaxed chic lifestyle. Strategically set between the dynamic sidewalk scene and an extensive boardwalk that runs along the length of a tranquil white-sand coastline, Maya Sanur's location invites you to experience the freedom and convenience of walking to an eclectic collection of international boutiques, restaurants, cafes, and bars.
Conveniently located approximately 25 minutes from Ngurah Rai International Airport, as well as within 45 minutes from many of Bali's famous holiday destinations, including Ubud, Seminyak, Kuta and Nusa Dua.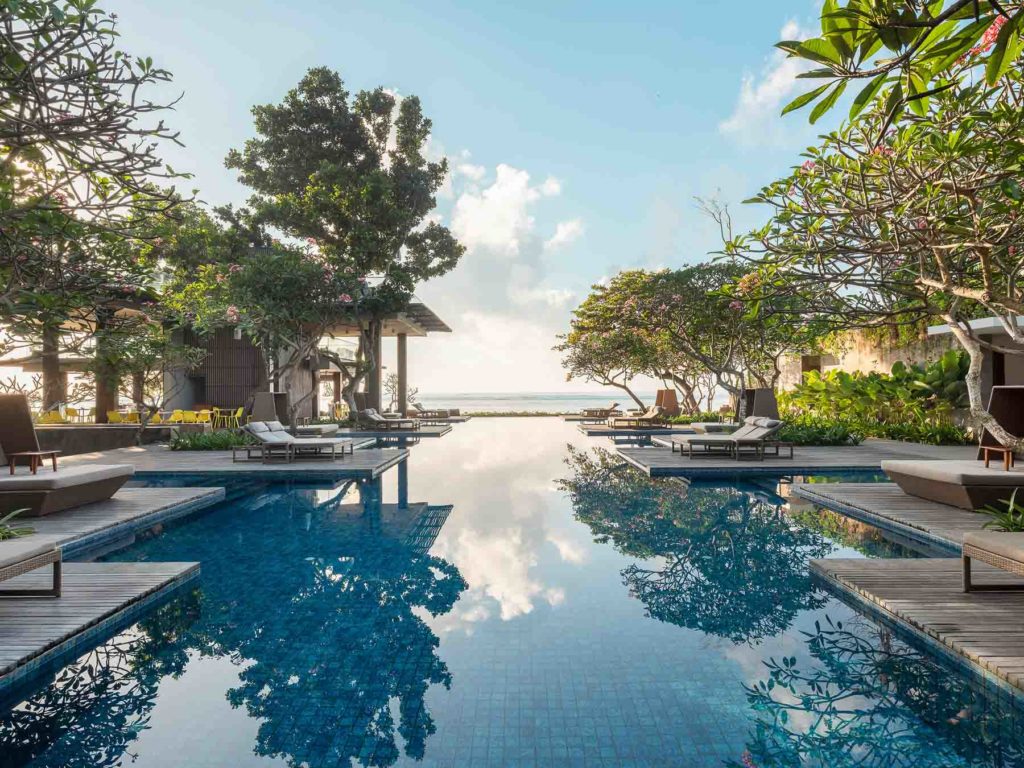 Just footsteps from a stretch of white sand beach blessed with vibrant sunrise views, Maya Sanur is the ultimate lifestyle retreat where tropical sophistication meets innovative Balinese design.
Distinguished by an eco-green rooftop, this Bali resort is attuned to the surrounding environment and is part of a tight-knit local community. Surrounded by plentiful shopping and dining options, Maya Sanur caters to the needs of couples as well as family travellers with high-end services and facilities.
Discover a spa in Bali that offers an exquisite service and unparalleled relaxation. In a peaceful and quiet surrounding, Spa at Maya brings you an experience that transcends time, full of peaceful moments and serenity. We have a wide variety of spa treatments and one of them is "Citrus bath" where you will be spoilt soaking in energizing pulpy fruits. There are various types of natural fruit baths available which have their own amazing benefits. We introduce our new well-being experience by using highly aromatic citrus family. Citrus fruits are rich in natural source of vitamin C, while the scent and taste uplift your mood and are good for skin.
This indulgent package surely will be the most favorite spa treatment. It starts with an ultimate relaxing "Soothing Maya Massage" followed by an exotic lime and ginger scrub to exfoliate, revitalize and refresh the body. Nothing is more soothing than a warm bath especially after a long journey. Feel the sensation of the luxury "Citrus Bath" ritual. A natural fruit bath is a great way to relax, stimulate circulation and relieve tension, while the calming Citrus will soothe and soften your skin to give a natural glow.
Conceptualized by award-winning architect, Budiman Hendropurnomo of Denton Corker Marshall, Maya Sanur Resort & Spa celebrates the timeless heritage and classic elements of Bali.The island's traditional concept of living harmoniously with nature is honoured with an innovative design that elevates Balinese aesthetics to exciting new heights.
Structurally, Maya Sanur Resort & Spa is sheltered by a stunning rooftop garden with a collection of intimate spaces and inspiring lagoon views beneath. A dramatic porte-cochere at the front entrance creates a real sense of arrival and five modern drum towers overhead represent Bali's oldest means of village communication. Innovative charcoal ceilings throughout the reception atrium are not only visually stimulating, but naturally absorb sound and cleanse the air.
Start each morning with a complimentary session of yoga or take pleasure in a leisurely stroll along Sanur's popular beach boardwalk. Plunge into the refreshing waters of our158-metre lagoon pool where stylish daybeds beckon you to unwind. Two other swimming pools, including one that is designed especially for children, promise afternoons of well-deserved relaxation or dynamic family fun. Visit Spa at Maya for a replenishing facial, or ask our wellness professionals to curate a sensory journey just for you.
In the fading hours of daylight, position yourself on the deck at Tree Bar to sip a glass of chilled wine.
Reserve a table for dinner in a floating gazebo at Reef as you watch the graceful movements of a traditional Balinese dance. Alternatively, savour authentic Japanese cuisine at Kuu or allow us to arrange a romantic dinner under the stars in the private ambience of our rooftop garden.
MAYA SANUR
Jalan Danau Tamblingan
P. O. Box 3253 Sanur
Bali 80228 – Indonesia
T. +62 361 849 7800
F. +62 361 849 7808
E. info@mayasanur.com
Read More